Filter by Category
Cultural Competency CE for Health Care Professionals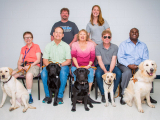 Cultural Competency CE & Ethics:Understanding the Diversity of Legal Blindness, Its Impacts and Solutions: Part 1 Basics - Live Video Seminar
with Deb Marinos MS CRC

Next session starts Sep 28, 2019 at 4 pm
4 additional sessions through Dec 2, 2019
Are you aware that some of your clients may be legally blind, yet not appear to have vision loss - in fact they are hiding it from you and everybody? Imagine knowing you are going blind - struggling to function while missing information and have no safe place to talk- feel about it. Think about the miscommunication and lack of information that may impact their treatment if they can not access your forms, but don't want to tell you so. 
This seminar will prepare you to be aware of the signs, have the right language to not offend, tools to help your clients feel connected instead of isolated or discounted.
If you are wondering how big this population of significant vision loss is? The striking 10% of all Americans over 40 and 23% of those over 85, is pretty common, though not all are "legally blind". They may just have a diagnosis of going blind or significant difficulty seeing. see the following link for more information.
http://www.norc.org/PD…/VEHSS/NHISDataSummaryReportVEHSS.pdfwit
About 100K in OR are listed "legally blind" by 2010 Census. (nfb) According to the Perkins School for the Blind only 2-8% use a white cane, and only 10K dog guide teams. So how will you know? And what if they do tell you, how do you assess the reality of their needs and impacts.
This is a practical class that will allow you to experience the diverse physical and emotional impacts 
This interesting and practical training Using real stories and examples of the many different impacts. Gain real world experience with guided exercises while using the visual simulators for several different types of vision loss. Discover low coast or free solutions and resources to make your practice welcoming and therapy effective. You can begin your journey into understanding and connecting with your clients.  Sign up now! Their is at least an hour, and some sessions have a two mid point break. Actually time in seminar is 4 hours. 
Oregon Health Authority (OHA) Approved Cultural Competency Continuing Ed. 4 HR CCCE for Health Care Professionals - Pyschologist, Psychotherapists, Counselors, LPC, LMFT, LCSW, OT, PT & more. 
Also Pre-Approved for:
4 hours by OR-NASW 2 hours Ethics & 2 hours of Clinical CE for Licensed Clinical Social Workers
Seminar is limited to 8 or less, is Interactive,  and Experiential present via Zoom  Live Video.
See more about statistics at: https://nfb.org/resources/blindness-statistics
With this live webinar,  you will learn about the many different ways vision loss exhibits itself, the impacts on practical everyday tasks.
Register now! 
Do you know how to make your forms accessible? It is easy and low cost. You will learn about many other ways you can connect better with your clients. We look at different eye diseases, such as diabetes, macular degeneration, cataracts, retinitis pigmentosa and glaucoma. Each has it own issues and barriers. 
Objective 1: Upon completion of this CE opportunity, participants shall be able to describe the term "legal blindness" based on federal laws and list at least three types of diversity in both degree and different types of needs for accommodation in order to meet emotional challenges,  access the environment, consider transit challenges, need for non-verbal cues, or printed materials that impact this populations' ability to fully participate in healthcare decisions and treatment.
Objective 2: Upon completion of this CE opportunity, health care professional may learn be able to consider the subtle signs of narrow field loss in their patients and be able to use culturally appropriate questions to determine what would help the patient feel supported and able to ask for supports in the professional's office to improve safety and trust. 
Objective 3
Upon completion of this CE opportunity, participants should be able to tactfully ask questions and probe for needs in a kind and respectful manner so that they may problem solve ways to provide a relationship based in trust and respect for both patient and provider.
Objective 4
Upon completion of this CE opportunity, participants should be able to access ways to provide accommodation through technology and tools and be aware that resources exist and give access to patient's printed information to meet informed consent rules in an equitable manner per federal and state laws.
Understanding the Diversity of Legal Blindness, Part 2 Deeper into Impacts and Solutions
with Deb Marinos MS CRC

Next session starts Nov 16, 2019 at 11 am
This live webinar seminar dives deeper into the psychosocial and functional impacts and ways to adapt. It is best that you attend the Part 1 class first. Please check in with instructor to consider exceptions.
This instructor has experience on all sides of the equation, as a person who is legally blind for over 25 years, while serving as a vocational rehabilitation counselor for many different disabiliteis, including blindness, as a mental health professional, and as a family member of a professional trainer, sister who was legally blind, before I was dx. Come learn what works and doesn't. And all the variety to approaches and needs.
Objectives:
Upon completion of the training The student will be able to:
describe at three distinct different functional impacts related to either central or peripheral vision loss.  
describe at least three different low cost ways to provide printed documents to match the clients specific needs.
list 3 considerations that may indicate unstated or unknown peripheral vision loss.
use culturally sensitive language to interact and communicate respectfully with a person with vision loss to encourage expression of needs to be able to fully participate in healthcare decisions.